Refusing to wear a mask in Ethiopia could cost you two years in jail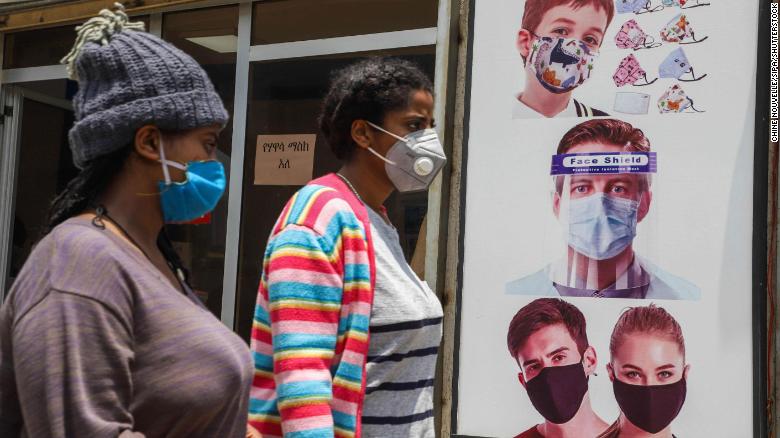 (CNN) Ethiopia can jail people for up to two years if they deliberately violate restrictions aimed at curbing the spread of Covid-19, the attorney general's office said, amid concern that citizens are becoming lax after a state of emergency was lifted.
Pandemic restrictions in Ethiopia
The restrictions prohibit shaking hands, not wearing a mask in a public place, seating more than three people at a table or not keeping "two adult steps" — around six feet — apart."Now it is as if COVID is no longer there, the public is not taking care," Health Minister Lia Tadesse tweeted on Thursday. "This will cause a possible increase in the spread of the disease and might be a threat to the nation."Ethiopia, Africa's second-most populous nation and a regional powerhouse, declared a state of emergency in April to curb the spread of the pandemic. It was lifted in September.The health ministry has recorded 91,118 Covid-19 cases, 1,384 deaths and 44,506 recoveries so far.
For More Information
See CNN's full story here.
Can Ethiopia stay united as one country?
Is Ethiopia about to disintegrate as a unified country? Will the Tigray Region try to secede from the country and create a 'breakaway state?' Al-Jazeera has presented an insightful and well-balanced account that's worth watching. It  includes good reporting and analysis by Tsedale Lemma, Editor-in-Chief, Addis Standard newspaper, and William Davison, Senior Ethiopia analyst, International Crisis Group.
Tigray leaders say they will stop recognizing federal government
Tigray recently held an election for its leaders, despite a national voting shut down due to the Corona virus. Its leaders are warning they will stop recognizing the federal government in Addis Ababa and its laws. Tigray, with about six percent of the country's population, held significant power in the post 1991 government that took over after the overthrow of the Derg (communist) government. In 2018, that government transformed through new Prime Minister Abiy Ahmed, who brought about massive democratic changes to the country. The Norwegian Nobel Committee awarded the Nobel Peace Prize to Abiy  for his efforts to achieve peace and international cooperation, and in particular for his decisive initiative to resolve the border conflict with neighboring Eritrea.
For more information
The Tigray situation is a complicated issue, with dire consequences for the country, and the region, if things fall apart. Watch the video here.
Entoto Natural Park is changing the look and feel of Addis Ababa
Many visitors to Addis Ababa may have gone up the mountain towering over the city to see the view. But now, there is an even more amazing opportunity available through recently spruced up Entoto Natural Park. It's getting raves on TripAdvisor(5/5). The summary says it "it amazes with absolutely stunningly dramatic places for relaxation or completely hilarious water activities." 
Check out this YouTube video
As the Prime Minister's Office says, the park will "change the look and feel of the city of Addis Ababa." Check out this YouTube video here–it's short and well done!
See more on Park's terrific website
The park has a terrific website. It's summary states: Wildlife Sanctuary, Entoto Natural Park towers high above Addis Ababa the Capital of Ethiopia. A historical protectorate with the reliability of a cliff fortress. A canyon of adorable beauty and lush greenery. The resting place from the era of dreams. Towards fresh well-fragrance of highland. Clear and pleasant hiking trails. The rising shoulder of the mountain's massif. Spring water bath of the high plateau. The wild forest of the ancient. The healing capacity of native wildlife.
Check out the websites, and then plan a long visit!
Speaking up against sexual violence, domestic abuse in Ethiopia
In socially conservative Ethiopia, the sexual assault of children, who make up around half of the population, is largely a taboo subject. Laws have changed and crimes are increasingly reported but survivors, activists and politicians say stigma remains.
For more information:
See more here, from aljazeera.com
Ethiopia Troops hailed for valor–in Korea.
Interesting history: When Haile Selassie sent over 3,500 soldiers to fight for Korea seven decades ago, the Ethiopian emperor did not mince words.  The first squad of infantrymen dispatched from the African nation in April 1951 was christened "Kagnew," meaning "the battalion which makes decisive attacks and annihilates enemies."   "The Kagnew Battalions engaged in combat 236 times and won every encounter, as both attackers and defenders," said Shiferaw Shigutie Wolassa, ambassador of Ethiopia to Korea.  
For more information:
See more here, Korea JoongAng Daily.